Covid-19 Pandemic and Educational Development in Rivers State, Nigeria
Wilfred Seidougha Ebimiedei

Ignatius Ajuru University of Education, Port Harcourt, Nigeria

Adiele Ikemefule Blessing

James Hope University, Lagos, Nigeria

Donald Gloria Odubo

Federal Polytechnic, Ekowe

Frank Funkeye Sapele

Department of Political Science, Faculty of Social and Management Sciences, University of Africa, Toru-Orua, Bayelsa State
Keywords:
Covid-19, Education, Development, Online Learning.
Abstract
Abstract
The study centres on two state owned degree awarding tertiary institutions: Rivers State University and Ignatius Ajuru University of Education. Prior to Covid-19, the mode learning was face to face. This, however, was interrupted by the pandemic, with lecturers and students being forced to online teaching. This study examines the nature of tertiary educational development in Rivers State before Covid-19 pandemic; investigates the setbacks caused by Covid-19 pandemic and investigates how Covid-19 impacted on tertiary educational development in Rivers State, Nigeria. The research adopted secondary and primary means in gathering the data. The study design was the descriptive survey method using purposive sampling technique. The population of study comprises both Rivers State University and Ignatius Ajuru University staff of 4,291, with a sample size of 400 respondents. The structural functionalism theory of Talcot Parson is used to guide the study. The findings showed that: Covid-19 delayed students' graduation; affected various universities budget plan and academic calendar. It led to poor school enrolments, poor school health and a decline of revenue. Thus, the study recommends that Government should make adequate provision for online learning platform in schools; and that there should be greater awareness on Covid 19.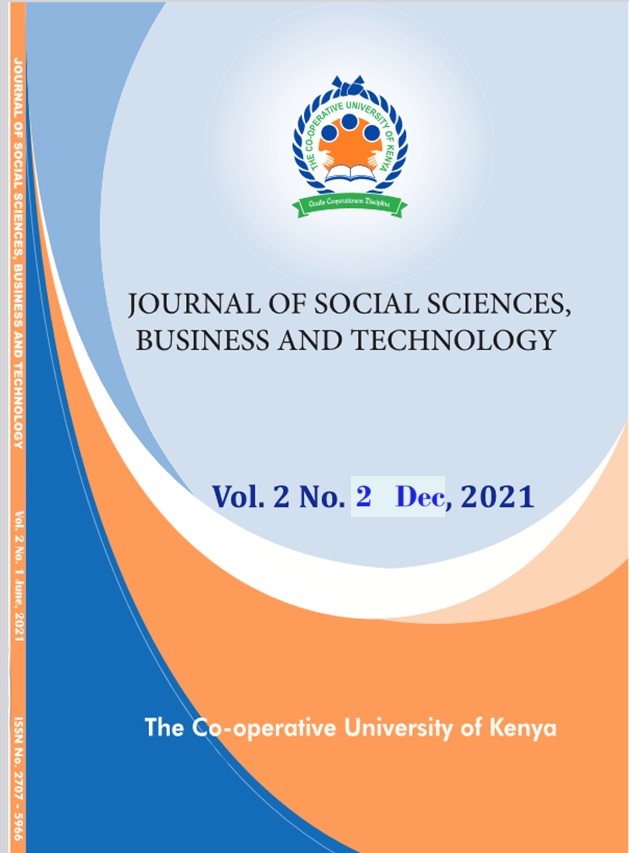 How to Cite
Ebimiedei, W., Blessing, A., Odubo, D., & Sapele, F. (2021). Covid-19 Pandemic and Educational Development in Rivers State, Nigeria. Journal of Social Sciences, Business and Technology (JSSBT), 2(2), 37-43. Retrieved from https://journals.cuk.ac.ke/index.php/JSSBT/article/view/69
The Co-operative University of Kenya, P.O Box 24814 – 00502, Karen, Nairobi, Kenya.
All rights reserved. With the exception of fair dealing for the purposes of research and private study, or criticism or review, no part of this publication may be reproduced, stored or transmitted in any form or by any means without prior written permission in writing from the copyright holder. Authorisation to photocopy items for internal and personal use (including for teaching purposes) is hereby granted by the copyright holder for libraries and other users provided the proper acknowledgement is made. The Editorial Board and the Publisher do not bear any responsibility for the views expressed in the papers and articles by contributors.