Husishwa: Enhancing Public Participation for Persons with Disabilities
Thomas Kamukam Ettyang'

Agency for Disability and Development in Africa
Keywords:
Participation; Disability Inclusion; Social and Solidarity Economy; Husishwa
Abstract
Abstract
Effective participation can only be realized if citizens have access to information in a timely manner and through accessible formats. For Persons with Disabilities (PwDs), participation is limited by access to information and accessibility of public information. Further, physical participation spaces are not inclusive because of distance or availability of supporting measures such as Sign Language Interpreters or provision of materials in media such as Braille. In response, ADDA implemented a 2-year learning and sharing project using the Design Thinking Methodology in conjunction with Disabled Persons Organizations in Nairobi, Kajiado, Kitui, Nakuru, Makueni and Kwale to study and develop models that would contribute to increased participation of PWDs. The project sought to learn what County Governments and other public institutions can do to enhance participation of PWDs; and, what Persons with Disabilities can do to effectively participate in governance processes. ADDA developed and piloted Husishwa through a Social Design process. The project worked with a cohort of 150 PwDs and 100 County Government officials to develop this tool. Husishwa is a tool that offers a collaborative checklist against which County Governments track their efforts towards inclusion of PWDs; and a digital convergence platform between PwDs and County Governments, for accessing information and participating in County budgets, projects and programs through web based or SMS technology. After implementation, four County Governments undertook to put in place measures that promote participation of PwDs in governance. Further, six County Disability networks were established. It was concluded that Disability Social and Solidarity Economy organizations, can utilize digital technology to break the barriers that exclude PwDs from governance processes. Thus, Social and Solidarity Economy Organization and public institutions should embrace digital technology to democratize access to information and include PwDs in project design, delivery and feedback.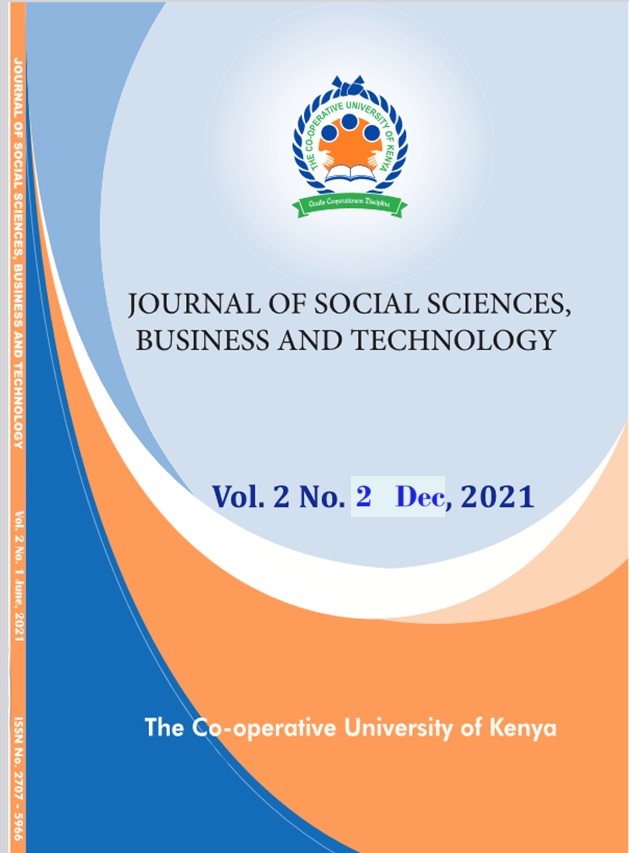 How to Cite
Ettyang', T. (2021). Husishwa: Enhancing Public Participation for Persons with Disabilities. Journal of Social Sciences, Business and Technology (JSSBT), 2(2), 26-36. Retrieved from https://journals.cuk.ac.ke/index.php/JSSBT/article/view/68
Papers published in AJCDT must be the original work of the author/s that has not been published previously in any manner. Authors retain the copyright of the published papers.