Pastoralist Vulnerability to Climate Change: Implication on Approaches to Community Resilience Building in West Pokot County
Lolemtum J. Timu

Institute of Climate Change and Adaptation, University of Nairobi

Charles K. K. Gachane

Institute of Climate Change and Adaptation, University of Nairobi, Nairobi.

Ali Adan Ali

Umma University

Moses L. Atupamoi

University of Nairobi
Keywords:
Pastoral Community, Climate Change and Resilience
Abstract
Abstract
Climate change is a global concern that requires urgent interventions to ensure that it does not jeopardizes community livelihoods, ecosystems and sustainable development. Africa is one of the continents severely affected by impacts of climate change due to inadequacy of resources and capacity problems. In Kenya, ASAL counties like West Pokot are among those adversely affected in adapting to climate extremes, where climate change is modifying the pastoral culture and livelihoods. Increased environmental degradation, deforestation, agricultural activities and other development project that exacerbated emissions toxic gases to the Atmosphere. The study examined vulnerability of pastoralist community to impacts of climate change in West Pokot County, Kenya. Respondents were selected through random, purposive and strata sampling methods, and data collected by the use of questionnaires administered to 384 respondents, key informant interview and focused group discussion. Quantitative data analyzed using SPSS version 25; the study was anchored on vulnerability model. The study found that climate change extremes had increased, impacting negatively on community water sources and pasture. West Pokot pastoralist are exposed to effects of Climate change, with (59.5%), indicating high and low (13.3%) and they are characterized with low adaptive capacity due to low level of education, and poverty. The finding also indicated that livestock body conditions during climate extreme event shows that 71.4% are in deteriorating condition and 1.8% in good condition with poor markets. The frequent drought attributed to climate change is a threat to pastoralist community livelihood and water systems. In order to mitigate livestock disease problem, the study found that 45% and 10% preferred disease surveillance as a strategy. Strengthening pastoralist capacity on climate change adaptation is of important in reducing pastoralist vulnerability to climate shocks, through enhancing adaptation measures that counter negative impacts of climate variability to pastoralist. The study contributes in recommending on various pastoralist adaptation strategies.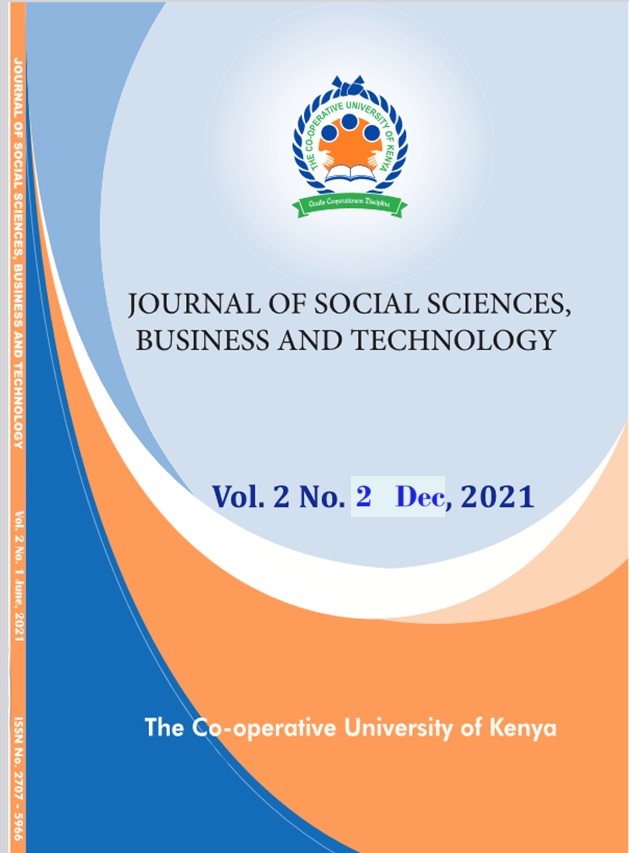 How to Cite
Timu, L., Gachane, C., Ali, A., & Atupamoi, M. (2021). Pastoralist Vulnerability to Climate Change: Implication on Approaches to Community Resilience Building in West Pokot County. Journal of Social Sciences, Business and Technology (JSSBT), 2(2), 17-25. Retrieved from https://journals.cuk.ac.ke/index.php/JSSBT/article/view/67
The Co-operative University of Kenya, P.O Box 24814 – 00502, Karen, Nairobi, Kenya.
All rights reserved. With the exception of fair dealing for the purposes of research and private study, or criticism or review, no part of this publication may be reproduced, stored or transmitted in any form or by any means without prior written permission in writing from the copyright holder. Authorisation to photocopy items for internal and personal use (including for teaching purposes) is hereby granted by the copyright holder for libraries and other users provided the proper acknowledgement is made. The Editorial Board and the Publisher do not bear any responsibility for the views expressed in the papers and articles by contributors.