Current Issue
Vol 2 No 2 (2021): Journal of Social Sciences, Business and Technology (JSSBT)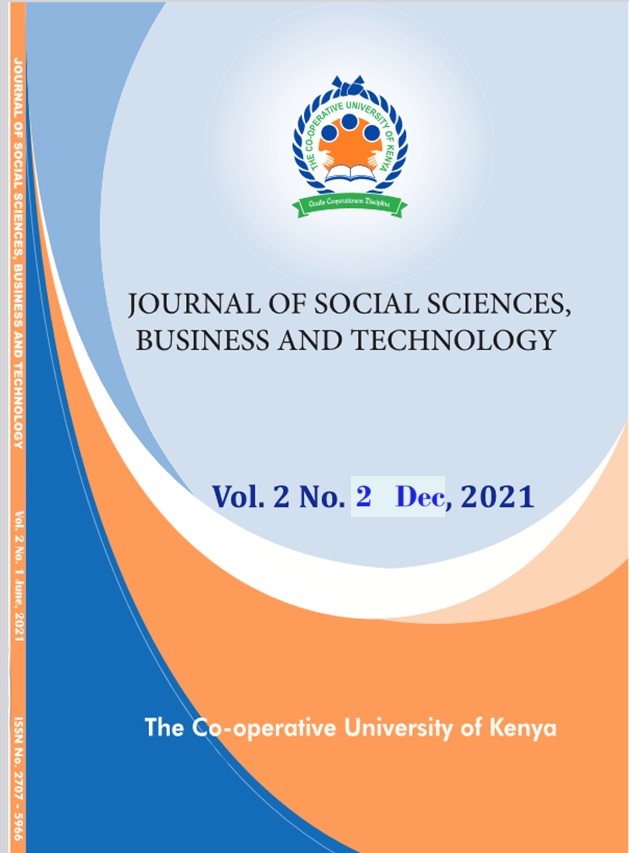 This special release, Number 2, of the 2nd Issue of the Journal of Social Sciences, Business and Technology (JSSBT) was released in December, 2021. the 1st release of 2nd Issue of JSSBT was released in June, 2021. It is an international peer reviewed journal, published by the Division of Co-operative Development, Research and Innovation of the Co-operative University of Kenya (www.cuk.ac.ke). The aim of Journal is to provide Scholars, policy makers and industry practitioners a forum for dissemination and discussion on various development issues both in Africa and Internationally. The journal is released both in Print and online (https://journals.cuk.ac.ke/index.php/JSSBT).
View All Issues
The Journal of Social Sciences, Business and Technology (JSSBT) was founded by the Faculty members of the Co-operative University of Kenya (CUCK) in 2020 as a need to provide a platform through which they could present, publish research findings, debate issues, communicate with the audience beyond the confines of the department and the University at large. The Journal is annually published and maintained by The Co-operative University of Kenya. The aim is to publish high quality research papers in the fields of social sciences, enterprenuership, business and technology. Contributions to the journal can be made as either a research article, a review article or a communication paper. The journal is published annually in June, and is distributed electronically worldwide via an open access.
The journal was well received in academic circles and the practitioners in Kenya and beyond. It gave hope to many scholars and practitioners in the social sciences and related sectors who had been yearning for such a forum in which to publish.
© All Rights Reserved. The Co-operative University of Kenya